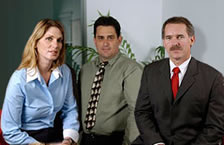 Maria Leiva, Office Manager
Albert Martinez Senior, Staff Accountant
Rolando Leiva, Certified Public Accountant
Rolando Leiva C.P.A., is the President of the wholly owned Professional Association (P.A.). Rolando manages all aspects of the PA on a day to day basis and is ultimately responsible for the quality of all services rendered.
Rolando graduated from Florida International University in 1982 with a major in Accounting and Bachelors in Business Administration.
Live support
(from 9:00 am to 6:00 pm; M-F)

Live Remote Access Support
Backup Remote Access Support
Use this link only if requested by our CPA Office. (Hourly fees apply).

For Quickbooks® or transaction coding related questions please call 305-663-1511 extension 12, or send e-mail to Albert Martinez.

For tax related questions please call 305-663-1511 extension 11, or send e-mail to Rolando Leiva, CPA

For copies of your tax returns and to obtain a status of your work call 305 663 1511 ext 13, or send e-mail to Maria Leiva

For scheduling appointments please call 305 663 1511 ext 13, or send e-mail to Luisa Rivero

On-line support (24/7)

For Quickbooks® or transaction coding related questions click here

For tax related questions click here

For copies of your tax returns and to obtain a status of your work click here

For scheduling appointments click here