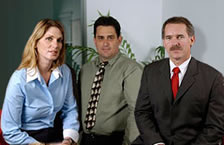 Maria Leiva, Office Manager
Albert Martinez Senior, Staff Accountant
Rolando Leiva, Certified Public Accountant
Rolando Leiva C.P.A., is the President of the wholly owned Professional Association (P.A.). Rolando manages all aspects of the PA on a day to day basis and is ultimately responsible for the quality of all services rendered. Rolando graduated from Florida International University in 1982 with a major in Accounting and Bachelors in Business Administration.
Shortly after graduating from college he successfully passed all four parts of the demanding CPA examination and received CPA certificate number AC 0014727 from the Florida Department of Professional Regulation Division of Accounting. After working with the international accounting firm of Price Waterhouse, in 1987 Rolando started Rolando Leiva C.P.A., PA and obtained PA license AD 0015715 for his new accounting firm.
In 1992 Alberto Martinez joined the P.A.'s staff and presently is responsible for general workflow specializing in Quickbook's monthly compilation and corporate tax services.
In 2000 Luisa Rivero joined the P.A.'s staff and is presently responsible for client special requests specializing in non-Quickbooks monthly compilation work.
Maria Leiva has been with the P.A. since 1987 and is responsible for office administration and filing system.
Starting in 2010, Mark Miller of Merrill Lynch will assist LeivaCPA clients in obtaining financing when in need of a mortgage loan.
Since 1987 the P.A.'s clientele has grown to over 800 individual and corporate clients mainly by satisfied clients referrals. Client industries cover all aspects of the local business community.
Recently, the focus of the P.A. has been in expanding client financial services and facilitating client information via this web site. Rolando Leiva also holds an active mortgage broker license, Series 6 Securities license, life insurance license, health insurance license and monitors the economy daily.